Entertainment giants like Microsoft, Google, Amazon and Apple are all striving to be the 'Netflix of Gaming', making announcements about new cloud gaming platforms or 'digital only' consoles like the Xbox S1. Their targets? The 'digital natives' a segment that have grown up without discs and are totally unfamiliar with the sluggish cartridge loading times of the 70s and 80s retro style consoles. They are accustomed to content being delivered to an owned device at a click of a button.
This week saw the launch of the Microsoft Xbox S1, at £199 in the UK and $249 in the US, which is significantly cheaper than its other Xbox one siblings. The disc-less device has pre-installed 'Digital Native' gaming favourites like Minecraft, Forza Horizon 3 and Sea of Thieves on its 1TB hard drive, and offers a discounted subscription to Xbox Game Pass, which is a library of more than 100 games for a monthly fee. Consumers will most certainly be drawn to this subscription model thanks to the savings that can be gained from access to the significant libraries of content.
In the latest Futuresource Gaming Report, it evaluates the market size and value of current digital entertainment content and corresponding subscription-based models and finds that whilst consumer savings are relatively high for video on demand (VoD) and music, in comparison, for gaming, the margin for the publisher is low. However, has the 'digital native' segment got the volume potential, over time to reach the mass market margin levels for return on investment?

Microsoft is also working on its xCloud game streaming service which is being designed to stream digital games to PCs, consoles, and mobile devices. Similar to the cloud gaming services offered by Amazon, Apple, Google and Verizon. So, the end of the disc may not be nigh. However, there are clearly road maps in place that could facilitate a hybrid environment with the traditional disc-based gamer co-existing with the non-disc players.
As Microsoft's Jeff Gattis suggested around the launch of the Microsoft Xbox S1, the disc-less model is not intended to replace disc-based models despite dramatic market trends towards the adoption of downloadable games over the past few years. "We're not looking to push customers toward digital. It's about meeting the needs of customers that are digital natives, the ones that prefer digital-based media. I'm not able to talk about future generations of Xbox consoles, for now this is a choice that buyers can make, and the market can take things where it wants to take it.
Futuresource analysis of game purchasing highlights the trend towards full digital game downloads by consumers, with physical unit sales expected to fall from 65% in 2018 to 61% in 2019. Whilst a market worldwide of over 100 million physical game copies is expected in 2023, digital sales will account for a majority of sales worldwide at 52% of Xbox game sell-through. Markets such as the UK will however quickly adopt digital content, with only 36% of Xbox games sold in the UK expected to be purchased in physical format by 2023.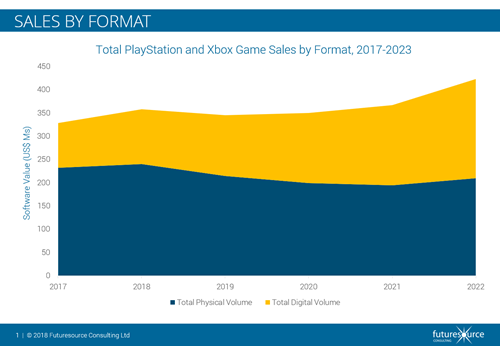 Over time technology continuously changes the way movies, music and games are created, distributed, purchased and enjoyed. In the last year, we've seen a number of product announcements and technology developments which are set to shape how consumers can and will access gaming content. The Xbox S1 and Google Stadia point towards the next generation of gaming services, with ever increasing broadband and 5G speeds set to enable more seamless game streaming.