Gaming Market Insights and Commentary
On the 23rd September, Corsair was finally listed on the NASDAQ, after delaying its listing back in 2010 then again in 2012, making Corsair the latest gaming-focused company to take the leap into public ownership. Consumer demand for gaming hardware and accessories has seen rapid growth this year, with the COVID-19 pandemic increasing gaming engagement, as a result of widespread lockdown measures around the world. Corsair has been well positioned to take advantage of this trend through increased sales of gaming DRAM, the cornerstone of its business, accounting for 40% of its revenues. Additionally, the company has also benefitted from increased spend on its wider portfolio of gaming accessories and PC components, ranging from cooling solutions, power supply units, keyboards, mice and gaming headsets.
Growth Opportunity and Strong Competition Fuelling the IPO
The gaming industry is booming, and with this growth, competition is increasing. In the memory segment alone, mainstream memory vendors have sought to secure share in this lucrative vertical through the launching of dedicated gaming sub-brands, including HyperX by Kingston, Ballistics by Micron, XPG by Adata and Viper by Patriot, competing against core gaming-focused brands such as Corsair, G.Skill and Geil.
"Because of the fierce competition in the gaming market, access to public capital will improve Corsair's competitiveness and provide the opportunity to build up a war chest to gain an advantage over competitors, especially smaller, capital-constrained companies in niche gaming verticals," says Erik Huang, Research Analyst at Futuresource. "Corsair's IPO will certainly be capturing the attention of other private companies focused on gaming computer components and peripherals; we may see some further S-1 filings in the near future."
Corsair Setting Sights on APAC Opportunity
In the first half of 2020, 70% of Corsair's revenue came from the comparatively mature gaming markets of EMEA and the US. However, its initial filing reveals plans for long-term growth to stem from the Asia Pacific (APAC) region. With APAC accounting for 53% of total gaming software revenues in 2019, and set to grow at 7.5% 20-24 CAGR, the region offers one of the largest global gaming revenue opportunities in both hardware and software. Furthermore, the APAC esports market is rapidly expanding, with the total esports fan base set to grow from 327 million in 2019 to 497 million in 2024. The growing interest in games and gaming culture will aid in creating demand for premium PC hardware and gaming accessories, particularly in markets such as China and South Korea.
Huang identifies that this development within the APAC region is already underway for Corsair. "The impact of COVID on growth in gaming is evident in Futuresource's quarterly Global DRAM channel tracking service. In the first half of 2020, the APAC region saw a 39.6% volume increase in gaming memory modules year-on-year. Corsair specifically benefited from this rise, increasing its share of volume from 15.3% in H1 2019 to 22.8% in H1 2020 over the same period."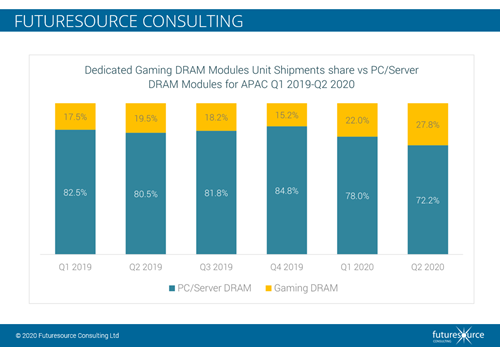 Memory Modules a Critical Component for High-End Gaming
PC gaming is at the centre of the professional esports scene, as well as the high-end gaming market. In 2019, close to 33 million gaming PCs were sold into professional esports and consumer markets. With both gaming as a consumer pastime and a professional vocation flourishing, demand for high performance components will continue to grow. As a result, performance-critical components such as memory modules, improving load speeds, frame rate and the overall gaming experience will continue to be a vital product line. "From a worldwide perspective, total gaming memory modules have seen a 37.2% volume increase in the channel market from the first half of 2020, versus the same period in 2019," Huang says.
Robust PC Gaming Growth Expected Across APAC
While much of Corsair's business operations are based in the US, Taiwan acts as the company's manufacturing hub where all its DRAM is assembled, presenting an ideal hub to supply across the Asia Pacific region. Additionally, the region is more focused on the PC gaming market than Europe and the Americas. "Console and handheld gaming devices have low market share across APAC, accounting for less than 1/5 of global console and handheld shipments in the first half of this year," says Huang, "the only exception is Japan, the home of Nintendo (Switch) and Sony (PlayStation), accounting for the majority of all Asia Pacific sales." Overall, PC gaming software is forecast to experience a 3% 20-24 revenue CAGR, with the superior gaming experience and access to more engaging content encouraging gamer upgrade, consequently driving up PC gaming component, as well as PC gaming peripheral demand.
Cloud Gaming: Is the End of Dedicated Gaming Hardware In Sight?
Cloud gaming presents a potential threat to PC component vendors. The rise of services which offer remote processing, including Google Stadia or Nvidia's GeForce Now, lower the barrier of entry for price sensitive gamers, expanding the total addressable market for the PC gaming ecosystem. However, this may have the effect of dampening demand for aftermarket gaming components such as processing units and memory modules, particularly for entry level price segments. On the other hand, vendors such as Corsair which offer a broad portfolio of PC related products, may benefit from the rise of cloud gaming through the increased opportunity for the sale of gaming peripheral product lines, such as headsets, keyboards and mice.
Corsair's IPO represents an opportunity for the company to expand through further investment, fuelling innovation, geographic expansion and securing a larger share of the PC gaming ecosystem. With continued growth expected in the gaming market, both in terms of demand for products and in lucrative emerging markets, Corsair will hope to leverage market tailwinds and an ability to access new streams of investment capital in order to take the company from strength to strength.
For more information on Futuresource Consulting's suite of entertainment reports, please contact Kailash Morjaria at kailash.morjaria@futuresource-hq.com