With inflation ballooning and economies still suffering the aftershocks of the Covid-19 pandemic, the onset of a global economic recession looks certain. Developed economies of the world will experience stagnation and compressed spending, particularly in H2 of 2022 and across the entirety of 2023. While this paints a grim picture for home audio markets, Futuresource is currently maintaining a moderate approach to the prospect of recession. 
While the 2008 global collapse saw consumers' disposable incomes and assets dramatically and immediately compromised, in 2022 we find ourselves in vastly different circumstances. The markets and governments of the world have had greater anticipation of the current economic downturn, which means we can expect a more gradual erosion of disposable incomes, rather than an immediate shock. This will also create a more long-tail recovery effect, as opposed to the sharp bounce back previously experienced. 
In anticipation of this looming recession, Futuresource has prepared multiple scenarios. One envisions a milder outcome where governments succeed in taming inflation. The recovery period from 2023 onwards would be stronger as a result. Another scenario prescribes a harsher outlook, with 2023 bringing a definitive collapse in economic activity. Recovery with this outcome would be lengthy, tailing throughout the latter part of 2024 and beyond. Both these scenarios will be pitted against our present forecast for comparison.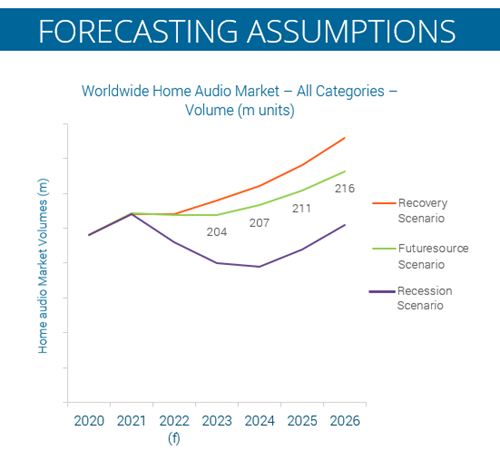 How will this Impact Home Audio Specifically?
A global economic downturn will inevitably impact home audio markets. Specifically, the low-end of the market will carry the greatest strain. Higher price brackets, with demographics that are better equipped to endure and benefit from a wider economic decline, are expected to hold strong. With luxury audio flourishing in recent years, the sector will likely maintain previous years' volume demand, or even grow stronger. 
While Futuresource endeavours to remain optimistic, our outlook is leaning more and more towards the recession line depicted in the graph, as opposed to our initial forecast in July.  
With the future of Home Audio in a state of flux, Futuresource Consulting can help provide market insight to support intelligent business decision-making. To enquire about our Home Audio services, please get in touch with leon.morris@futuresource-hq.com.