The global headphones market posted encouraging shipment results in Q3 2020, achieving 19% year-on-year growth after two consecutive quarters of unit decline, according to the latest quarterly tracker from Futuresource Consulting. This follows on from the segment's return to profitability in Q2, which was further improved in Q3, at 40% year-on-year value growth.
"This result signals a clear and sustained recovery for the headphones market, with its origins in the midst of pandemic," says Adriana Blanco, Senior Market Analyst at Futuresource Consulting.
"Not only have consumers continued to buy headphones, particularly true wireless products, but their shifting lifestyles have earned ear technology a place in the foreground. A new emphasis on personal music listening, home entertainment, virtual communications and online education has set the scene for success. However, widespread remote working has been the bedrock from which everything else has sprung."
True Wireless Leads the Way, Despite Supply Side Issues
True wireless has also been a key factor in the growth, accounting for more than 45% of total headphones shipped in Q3. Yet supply side issues, particularly with Bluetooth chips, have impacted availability of new models during the second half of 2020. Consequently, many brands have delayed product launches until 2021.
China Strong, USA and Western Europe Gaining Traction
Looking to the regions, China led the way to growth, driven by true wireless as the country bounced back from the pandemic ahead of all other world territories. The leading Chinese brands such as Xiaomi and Huawei focused in on the local market, using their competitively priced products to reduce the significance of the much smaller C brands. The USA and Western Europe also performed above market expectations, with many brands offering discounts on their old models to move stock and attract new customers.
True wireless featured in most new product launches in Q3, with the technology pervading a range of price segments. The $50 to $99 bracket was particularly notable for true wireless entrants and is now highly competitive and overcrowded, as brands attempt to shout above the noise. The quarter also saw a few key launches in the wireless over-ear segment, such as Sony's WH-1000XM4, which delivered a strong performance in a range of territories.
The High Street Challenge
"We've seen a global blossoming, as different countries have continued to move through the various stages of lockdown," says Blanco. "The majority saw year-on-year volume growth in Q3, with the exception of Japan and the developing South East Asian markets. Here, physical retail still plays a defining cultural role and the enforced pause in high street footfall has not yet picked up fast enough to spark a recovery. In many instances, even when shops were open, consumers avoided them due to health concerns stemming from the pandemic."
Online Renaissance Creates Opportunities for Both Brands and Retailers
Beyond Japan and South East Asia, sales have been rapidly transitioning to online, as consumers embrace internet shopping, even in emerging markets. Brands have also used the pandemic as an opportunity to improve their own websites and push direct sales to end consumers. At the same time, retailers are working closely with brands to improve their own online infrastructures. This is reaping a range of benefits, particularly as retailers are no longer bound by shelf space and can expand their SKU availability far beyond what's possible in a physical store.
Apple Stays Ahead of the Competition
In brand terms, Apple continued to outperform the market in many regions, leading the overall rankings in both volume and value. This success was replicated in the true wireless market, thanks to the continued consumer uptake of AirPods Pro. Sony and JBL completed the quarter's top three rankings in both volume and value terms. The long-awaited over-ear launch from Apple finally came to pass on 8th December, the AirPods Max is priced at $549 with features such as active noise-cancelling and Voice Assistant, positioning it at the premium end of headphones. Futuresource will follow closely the battle on the over-ear premium segment in Q4 2020 as this recent launch will challenge other over-ear premium brands such as Sony and Bose.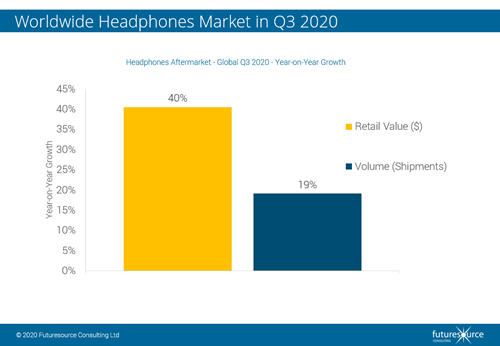 For more information on the Futuresource Consulting quarterly headphones tracker, get in touch with Jack Tammaro via jack.tammaro@futuresource-hq.com.